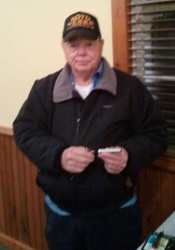 Looking for an affordable, portable CW paddle? You've found it!
The Te-Ne-Ke ("teeny key") is an iambic paddle designed and patented by Boyd Mason, NE8KE and built in West Michigan by members of the North Ottawa Amateur Radio Club. The contacts are made from beryllium copper springs and brass pins, attached to a stainless steel head. The key connects to your rig or keyer with a standard 3.5mm audio patch cable (not included). This key is small in stature with makes it great for POTA, SOTA, and mobile operations!
As featured in QST (February 2001, p. 107) and CQ magazine
TE-NE-KE IN QST FEB 2001
TE-NE-KE IN QST SEP 1997
TE-NE-KE IN QST SEP 1997
Articles linked above were used with permission, FEBRUARY 2001 & SEPTEMBER 1997 QST
A note on variations
Several variations of the Te-Ne-Ke currently exist. The head used to be made from CNC-machined aluminum channel stock with a plastic jewel on the front. Current production units are made from laser-cut stainless steel, without the jewel.
Pricing (US $)
Finished unit (includes 3ft cable): $65.00
Black wrinkle painted steel base: $25.00
Shipping:
United States: $8.00
Canada, Europe and Australia: $25.00
Other countries: please e-mail the NOARC treasurer at sundstrj@gvsu.edu for a shipping quote
Ordering
To order your Te-Ne-Ke, send a PayPal payment (as a purchase) to the NOARC treasurer, John, N8YQD.
We also accept orders by check or money order mailed to:
NOARC
P.O. Box 976
Grand Haven, MI 49417
You may also email (sundstrj@gvsu.edu) John to arrange another method.
Fulfillment:
Orders received by PayPal are shipped within 72 hours provided that we have keys in stock.
Feedback:
We'd love to hear about your thoughts and experiences with the Te-Ne-Ke. Please write us to let us know how you enjoy it and any notable contacts you've made! Te-Ne-Ke's are shipped all around the globe!